Our Story

Since 1976, Stephen and Joy have been organizing outdoor adventures in the countryside of Southern Quebec and Northern Vermont. We cater to pre-arranged groups. Bicycling, skiing, tennis, golf, hiking/walking, kayaking and dancing groups have enjoyed our site during the last 24 years. We welcome groups of 12 - 24 adults. Smaller groups can be included with other pre-arranged groups, i.e. tennis teams, ski families, etc.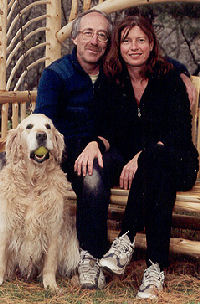 Stephen trained in Engineering Physics and lasted about six months in a suit before pursuing his lifelong interest in Outdoor Pursuits: downhill skier since the age of 3, multiple Gold Bar Canadian Ski Marathoner, whitewater kayaker on 4 continents, distance bike tourer and tennis instructing fanatic. His love of the outdoors and the sporting pleasures found therein has been shared with tens of thousands over the years. Joy long ago traded her day job in the corporate world to return to her roots and the benefits of country living. This was not a hardship for her. She became a trained chef, took up marathon running and completed the Marine Corps Marathon in Washington, D.C.. She also achieved her Silver Medal in the Canadian Ski Marathon, a venerable and much-loved annual winter event and, to this day, her love of cross-country skiing parallels her passion for her beloved bike and bike touring in general. So whether she is touring New Zealand by bike or exploring the delights of the backroads of Vermont, her enthusiasm is contagious. Joy is a great storyteller, a lively conversationalist and ardent student of Latin/Ballroom Dance. Her touch is everywhere in the Lodge....from the placement of reading lamps to the seasonings in the pesto. All recipes are shared. Her quest for comfort makes the Lodge feel very much like a home away from home.
"We moved to Glen Sutton in 1979 and set about renovating the village's former schoolhouse. Built in 1900, we sought out equivalent buildings in Montreal that were slated for demolition. We wanted to recycle as authentically as possible every aspect of our 'new' Lodge. In the end, our stairs and entrance lights came from the Christ Church Cathedral Parish House, our floors, doors, moldings and kitchen cabinetry came from the Mother House of the Congregation de Notre Dame, now Dawson College (much American Chestnut). Our sun room's fireplace mantle came from an old Westmount mansion, our fire escape door from an IGA meat locker and our Victorian spiral staircase from a nunnery's records room. Without realizing it at the time, we were on our way to creating a green enviro-friendly Lodge. After our main building was completed we moved (by truck) and renovated an old post and beam hay barn to complete our onsite lodging options."
Photo credits to Fernand Brunschwig, Richard Wolf, Chris Busby, Tom Schneck, Richard Altimas, Joy Wattie and Ilene Perlman. Also, a huge thanks to all of our guests who so generously shared their pictures with us over the past 24 years.