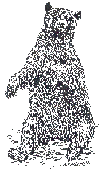 1351 Vallée Missisquoi
Glen Sutton, Quebec
J0E 2K0
450.538.5816
info@outdoorlodge.ca

Mailing address
125 Bridge Road
Sutton, Quebec
J0E 2K0
Canada

Biking
Skiing
Kayaking
Tennis
Golf
Hiking/Walking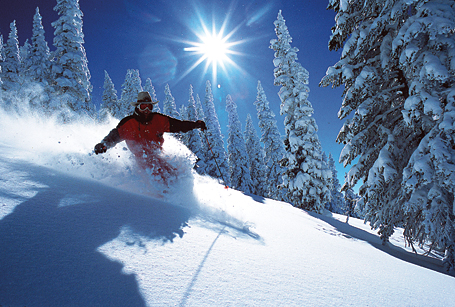 Skiing

Downhill

The vast majority of skiers plateau out as modest intermediates, especially with the new shaped skis. Our weeks seek to remedy that. We hope to spend 2 days each at Jay Peak, VT and Mont Sutton, Qc. Whether you are a beginner, intermediate or advanced skier do consider a visit. Sutton: 26% beginner, 36% intermediate, 38% advanced terrain. Jay: 20% beginner, 40% intermediate, 40% advanced terrain. Rentals available.

The Outdoor Lodge in Glen Sutton is ideally situated midway between Jay Peak, Vermont and Mont Sutton, Quebec. Both mountains compete for Best in The East honours. Jay can be a cold mountain when the winds are up (plus lifts can close). It has a bigger vertical drop (2153' vs. 1430') with its summit over 1000' higher than Sutton's. Jay seems to gather snow from all directions and gets a fair bit of lake effect snow from Lake Ontario. Jay states annual snowfall averages in the 350" range (more than Sunday River's 155", Killington's 250", even more than Aspen's 300") while Sutton calls out at 200" average snowfall. Sutton's glades are as originally cut, Jay came and fitted them in quite recently (Sutton's have a natural feel, Jay's are trickier and much tighter). An expert from Jay would find Sutton playful, an expert from Sutton would be challenged heavily at the top end of Jay's terrain. Our Lodge is 25 minutes away from each. Jay and Sutton Ski School instructors can show you hidden stashes on either mountain and can help tune up your ability in bumps, powder, carving or just getting started with time tested beginner progressions. The week's goal is to get you to that next level. Lift tickets are included in the price. This week also has a cross-country ski and snowshoe component should you wish a switch day.

Cross Country

We are minutes away from Le Diable Vert and Ruiter Valley XC Ski Centers and about 30 minutes more from Orford Provincial Park and Yamaska Provincial Park (skate plus classic). Our Lodge instructors are all Coureur de Bois Gold Bar pros. Why not join the fewer than 10% of cross country skiers who actually ski through the woods (90% just walk their way along). We'll cover the fundamentals then the subtleties of diagonal stride, double poling and on to the various braking, turning and skating techniques (telemark anyone?). Two hours of instruction each day. Many cross-country skiers have palpitations at the tops of challenging downhills but those doubting sentiments will vanish after a few sessions of technique and confidence building....we guarantee results. Rentals available. This week is shared with downhill skiers and snowshoers should you wish a switch day.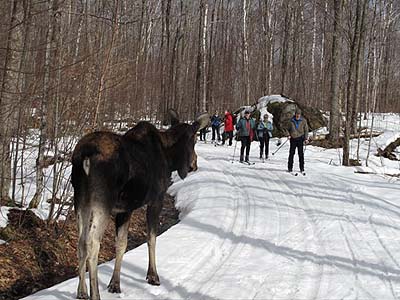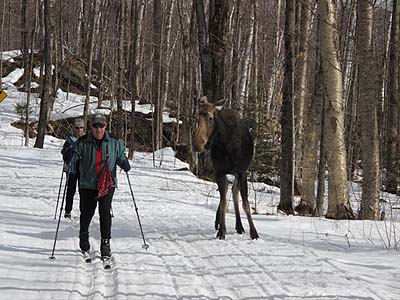 "Around 3 in the afternoon, March 15, 2010 in Orford Park. Smiles all around".