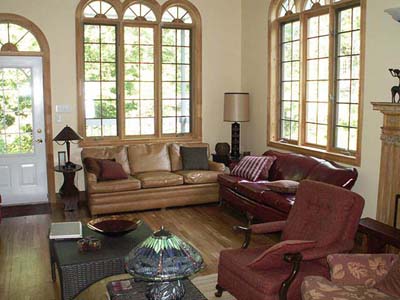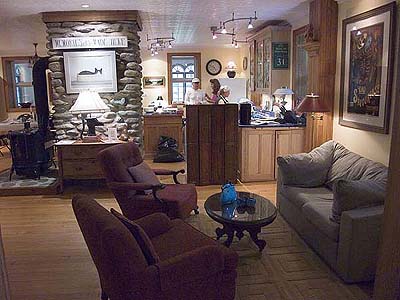 Lodge
The Rooms
Click here to see photos of the rooms
Our rooms regularly elicit pleasure for the 'home comfort' levels they deliver. All have private bath, all have quality linens and good reading lamps. Some are full suites featuring kitchenette, sitting/reading area, private balcony. We lodge our guests in various buildings: Up to 18 are housed on site in two separate buildings, 8 more are a few minutes away, by the river's edge in ensuite units with an in-ground pool footsteps from the private balconies. All have two twin beds or a double bed. We have one large room with a Queen size bed. Additional accommodation is available but may result in shared bath arrangements.
The Food
Homestyle high-end cooking with all menus chef-designed by Joy and her kitchen team headed by the talented Ann Mundey. We provide three meals a day, unless otherwise arranged. Special needs diets can be arranged ahead of time. In this age of fast cuisine, we think you'll appreciate the effort that our dining team puts into all the 'from scratch' delicacies.
Click here to see some of the typical items found on our menu.
Other Amenities

• Oscar our cat: came to our door in the Spring of 2008 as a starving stray who had
mightily battled the previous winter's storms and decided to come in from the cold
• a world-class film collection
• an enormous nature/outdoors library
• sea kayaks, whitewater kayaks, canoes, bicycles, backpacks, winter sleeping bags,
tennis racquets (plus ball machine, radar gun, hoppers) as well as all associated
accessories available to our guests
• two fireplaces to keep those toddies warm
• two TVs in our common rooms
• internet access
Click here to see our photo gallery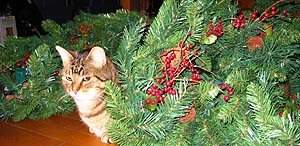 Click here to read our Testimonials.
Click on a link to take a virtual bicycle tour
July 2008 Part 1
July 2008 Part2
June 2007 Part1
June 2007 Part2