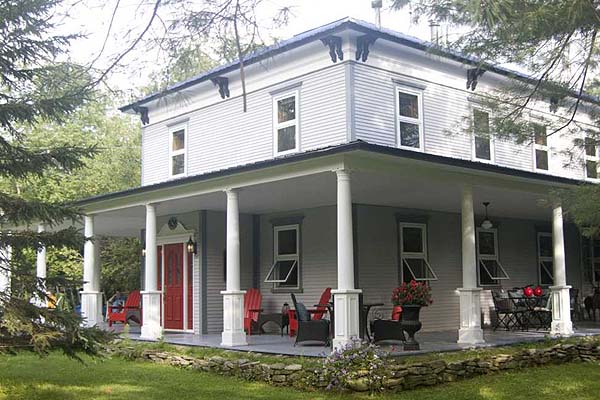 Frequently Asked Questions

Typical Day's Timing?
Coffee available around 7am followed by breakfast at 8am. Pick up lunch elements at 8:30am. Ready for action at 9am then away. Lunch together and back at headquarters around 4:30pm depending on the day/activity. Supper at 6pm. Evening activities at 7:30pm.

Alcohol?
We have no liquor permit so guests BYOB. (HOORAY!)

Weather to expect?
Check out www.weather.com and enter Richford, Vermont (five miles away) when the town prompt appears.

Out of country travel insurance?
We are located very close to the American border and can cross back and forth on any given day. Out of country insurance is a good idea. As well, passports obligatory.

Special Diets?
Our kitchen has a fine reputation. We generally serve fixed home-cooked meals (everything from scratch). Vegetarian upon request. Call ahead for details.

Electricity?
110 volt. All of North America is the same.

Alarm Clocks?
In each room.

Hair Dryers?
Provided.

Equipment Rentals?
We rent hybrid and road bikes, sea kayaks and tennis racquets. Nearby are golf club rentals and DH and XC ski rentals. Call for details.

Stayovers?
Yes, if arranged ahead.

Lunches?
We provide 3 meals a day (unless arranged otherwise) and bag lunches are picked up each day after breakfast.